Connect with your social network account
originally posted Jul 18, 2006
I found a tree frog on my chicken pen... What is it?
click->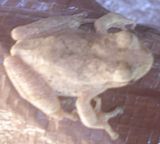 click->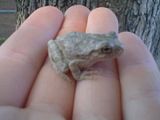 C_B
---
I do believe that is a gray tree frog. There's a few different gray tree frogs but I think it's safe to just say it's a gray tree frog.
I can't tell if it's just the lighting, but I don't usually see any that are that lightly colored. They can change colors where they'll be a light gray, almost white, or a darker gray, and even fairly green on the back.
I love the tree frogs I have here. I had about 6 of them outside my back door tonight and some were babies about the size of lima beans.
"But ask now the beasts, and they shall teach thee; and the fowls of the air, and they shall tell thee:"
- Job 12:7
---